Table of Contents:
Pedal vs. Paddle Kayaks
Kayaking for Seniors, One woman's Quest
As an avid outdoors woman I had enjoyed kayaking for many years until I hit my early 60's. Due to arthritis developing in my back, hips and knees, my sit-on-top kayak became difficult to use. It was hard trying to get up on it from knee deep water or stiffly stepping down off of a dock without losing my balance. I struggled to get down into the low seat without losing my balance, ending up in the water and having to start the process all over again. If there was no kayak launch assist it was difficult to get on my kayak without help. I would often have to cut my day short when the pain, stiffness and numbness set in from the low seat and lack of being able to adjust the settings of the seat and pedal system. I hated having to lean forward to lift the pedal system up and out when I came to shallow water without hurting my back. For someone who enjoyed the exercise, relaxation and stress relief that being out on the water all day offered I began to dread going out. I often worried that I might end up tipping over and ending up in the water and not be able to get back on with my lack of balance and arm strength. I began to quest to find a new kayak that offered great stability, enhanced comfort and was easy to store and transport. Below was the criteria for my quest.
Stability
Most sit-on-top kayaks have some stability but can be difficult to get on and off of. You usually have to step in the water first before stepping up on the kayak or stepping down from a dock all the while keeping your balance as you try to lower yourself down into the low-profile seat. This becomes more difficult the older you get! Once on the water you must be careful moving, twisting or shifting your weight to reach for a camera, fishing rods or snacks etc, especially when hitting waves. You can quickly end up in the water. Then comes the struggle to get back on. Stability issues can be challenging when it comes to trying to stand up from the standard low-profile seat. Installing grab bars becomes necessary to help you stand up and then you may have to hold on to maintain your balance. I wanted a higher seat where I could easily stand up under my own power without having to mount a grab bar in front. You should be able to stand up easily without feeling insecure and move about securely whether you are fishing, taking photographs or just stretching. I also wanted a method for getting on and off my kayak once out on the water in case I wanted to take a swim on a hot summer day. It was getting impossible to drag myself back on my sit-on-top (kayak) all the while maintaining my balance without tipping everything out of it. Many senior aged kayakers have limited flexibility, strength and balance issues so stability is the number one priority.
Enhanced comfort
Comfort was the next important requirement in my quest for a new kayak. Many kayaks are outfitted with a low profile seat with very little adjustability and it doesn't take long for stiffness/numbness to set in. That in itself can ruin a beautiful day on the water. I wanted a higher seat to make it easier to sit down or stand up and would offer the ability to adjust multiple positions higher than the standard kayak seat to the most comfortable height setting for my knees back and hips. With a higher seat I would not have to use/install a grab bar. I wanted a chair with adjustability with several adjustable levels. I also wanted to be able to stand up securely to stretch often during the day and be able to do photography without worrying about dropping my expensive photography equipment. Something to rest my back/shoulders against or turn around and look/fish behind my kayak so a leaning post option would be great. Another important factor is the position of the seat to the pedal system. If you are stuck in one position relative to your pedal drive that will make for a very uncomfortable day by putting undue strain on your knees, back and hips. Everyone has different leg lengths so having that flexibility is a great feature. To me being able to adjust the distance of the seat to the pedal drive as well as the level and angle of your hips would be an awesome feature. I also want the ability to have an electric motor that I can use simultaneously while pedaling so that it enables me to go further distances yet still allows me to keep getting exercise at my pace. The best thing a senior can do is to keep moving using a low impact method of exercise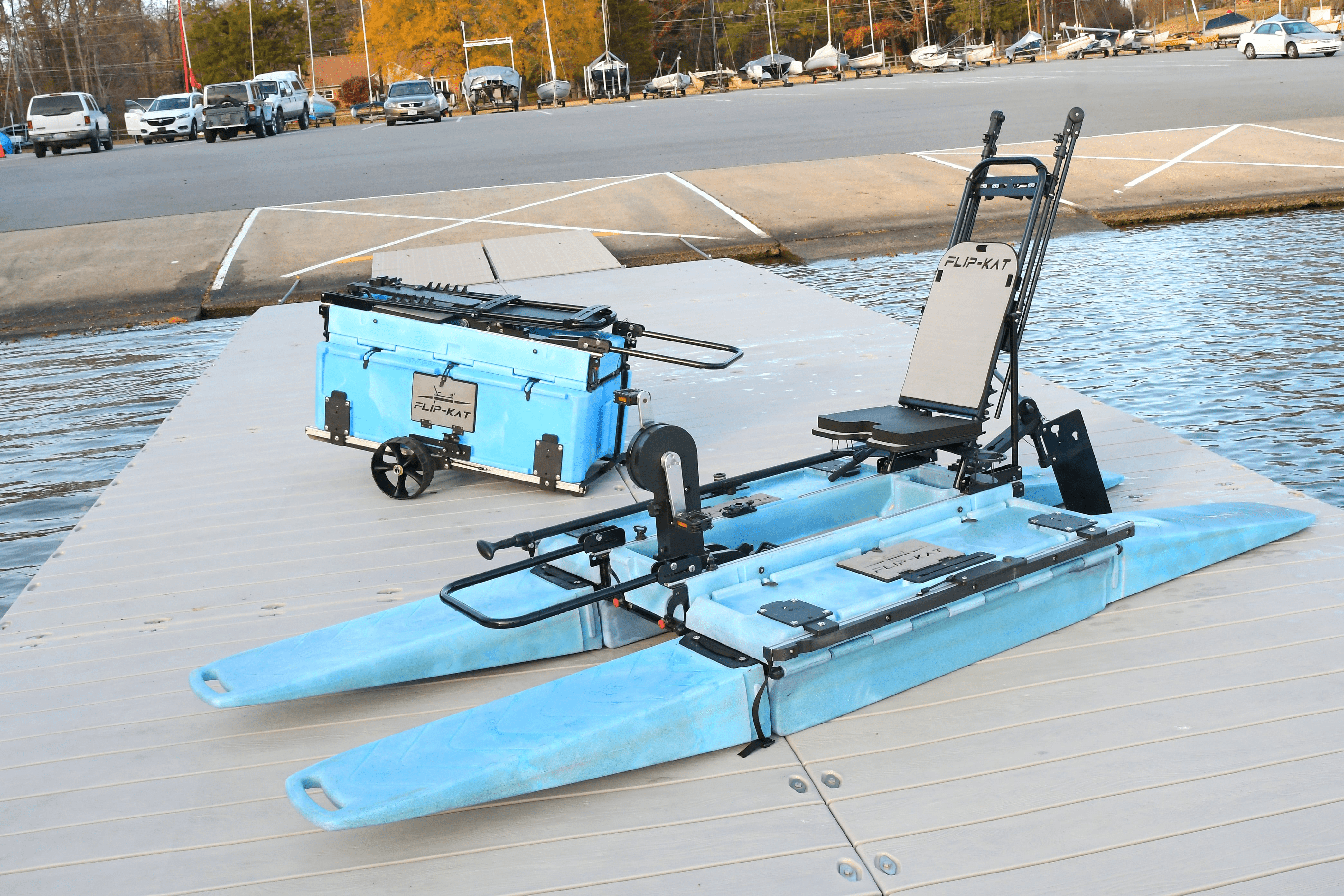 Transport and Portability
Being able to transport my kayak became another issue. I could no longer lift it up to the roof of my SUV and carrying around a step ladder was not convenient. Buying a trailer would mean yearly trailer registration and tags and would also require even more storage space. My 12 ft sit-on-top already took up too much space in my garage. Many of my friends have begun the process of downsizing and have less space and don't want to rent a storage unit which would be an unnecessary monthly expense for as long as you own your kayak. That adds up, especially for those on a fixed income. I started thinking that a portable kayak could be a solution. A lot of portable kayaks are lightweight folding plastic or sticks and skin types but I didn't feel stable on them, especially trying to get in or out of them and there is no standing up or moving around to get in a new comfortable position. Inflatables can be time consuming to blow up/deflate and clean up when finished. They are also affected by the wind and can snag something and deflate far from the launch site. There are only a few hard shell rotomolded portable kayaks out there but the biggest downside was that most of these portables were paddle only and pedaling was a priority for me. Most cardio workout equipment involves pedaling stationary/recumbent bikes or elliptical systems and pedaling kayaks could offer the same benefits as well as being easier than paddling except you get to do it outdoors on the water. So something that is compact and easy to transport that included a pedal drive system became a challenge.
Storability
In considering a portable kayak I realized it gave me a lot of options. I could fit it in the corner of a garage, storage room or even in a closet. No trailers would mean no need to rent a storage unit or take up a large portion of my garage (Most HOAs won't let you have one in your driveway or yard). Not worrying about storage would allow me at some point to retire to a condo close to the water, I could keep it with me and go out at the spur of the moment to take advantage of perfect kayaking weather.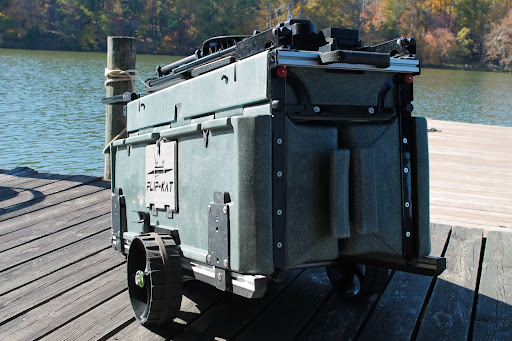 Conclusion
My search for extreme stability, enhanced comfort, portability and ease of transport and storage brought me to a new portable kayak called The Flip-Kat™ by Noisy River Outdoors. The Flip-Kat™ offers a full 4 ft wide deck with catamaran hulls that are designed to be ultra stable. These hulls make going over waves a breeze and you can easily walk right on from the bank by just stepping right on either one of the pontoons/hulls or off the dock directly onto the 4 foot wide main deck and feel secure. It has an amazing combination seat/leaning post that offers a wide range of adjustments from all the way flat to an incredible height of 15 inches (even higher if you add a cushion). That's almost like sitting in a regular chair. The back of the seat has a range from 90 degrees all the way back to a 45 degree layout/lounge chair position like a recumbent bike. Talk about being comfortable for your stiff joints and the chair back even becomes a leaning post for standup fishing, photography or just taking in the sights. The chair back can also be fitted with T track brackets for attaching accessories like a paddle, fishing rods and best of all a place to add the optional adjustable canopy that goes all the way up to a standing position (at my age the sun is not my friend). I was even more excited to see that with all those adjustable seat positions the pedal drive had adjustable positions too. So no matter where I positioned my seat I could adjust the pedal drive to match. The pedal drive also features an insane auto kick-up prop shaft that allows me to pedal right up to the shore and get out and never have to stop and lift up the pedal drive system. I can even pedal over hidden logs and in shallow water and never stop pedaling or have to deal with the frustration of pulling up the pedal drive or getting out the paddle. This is a first of its kind feature that even the regular full size kayaks don't offer and you can't believe how convenient this really is. I even found that the handle folds down to become a ladder so that if I want to take a swim I can easily climb back up on the Flip-Kat™ without worrying about it.
Right away I realized I could spend all day on this kayak, it's just that comfortable. What a pleasure it is to be able to sit down, stand up, and even turn around not feeling like at any moment it might tip over. The pedal drive was also whisper quiet, easy to pedal and solid with no wobbling, which is great for your knees. I was really excited to learn The Flip-Kat™ was designed to work with a Bixpy motor. The battery box fits neatly underneath the seat and the drive attaches to the rudder with the optional adapter. I can be lazy, take a break and use the Bixpy by itself or I can pedal simultaneously while using the Bixpy to extend my day out on the water. The Bixpy wrist remote also allows you to extend the tiller handle and with the leaning post comfortably operate the Flip-Kat™ in the standup position to stretch your legs while enjoying the breeze and the view. The Flip-Kat™ has plenty of storage with around 5 cubic ft under the hull lids and plenty of deck space and T Trac to add any accessories. This Kayak is completely integrated so that everything is stored inside itself. The Flip-Kat™ folded up is like a big cooler 26 x 23 x 51 and contains everything for a one trip unloading from the car to the launch site. The seat, pedal drive system and wheel system are all built in. Even your paddle, fishing rod and canopy can be left attached to the seat back so you can roll it right down to the water and in about 2 minutes you can be out on the water.
Flipped out this kayak became an 11'3 x 4 ft wide full sized kayak that I could spend all day on having an adventure and still be able to walk at the end of the day. Best part is it fits right in the back of my SUV heck I could even fit 2 side by side in my Tahoe. They even have an optional hitch rack that is easy to transport on the back of your vehicle if you need the car storage space for your cooler or camping gear. When I get back home I can just roll the Flip-Kat™ right into my garage or inside the house. It even fits in elevators. The Flip-Kat™ will give me a great way to beat the aggravation of arthritis and continue to enjoy one of my favorite pastimes anywhere quickly and comfortably while making me feel secure. Old age won't keep me down with a Flip-Kat®!