Table of Contents:
Choosing a Portable Kayak
Why Choose a Portable Kayak?
The benefits of owning a portable kayak.
There are endless benefits to being the owner of a portable kayak. Starting with the ability to take your adventures anywhere you go! Having a portable kayak allows the ease of transporting your kayak to new rivers, lakes, and oceans. Additionally, many places might be hard to reach by boat, this is where having a portable kayak can help you launch and arrive at these hard-to-reach locations. Being able to go anywhere there is water is the biggest benefit of owning a portable kayak.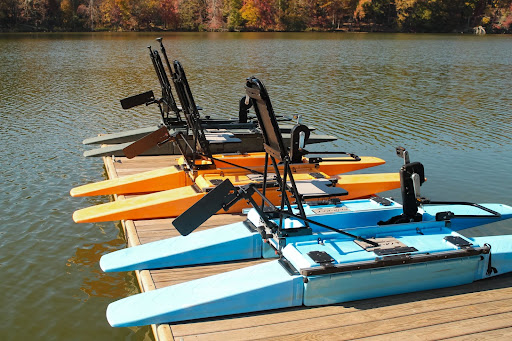 How a portable kayak can enhance your outdoor adventures
Picture this, you are taking a huge trip to explore the colorado river. You are packing up your vehicle and realize you don't have room to bring your full-size non-portable kayak. You wake from this nightmare and run to the garage to be sure your portable kayak is sitting there ready to be easily loaded on this epic adventure you are about to take.
Being able to go anywhere with your kayak is an essential part of enjoying the outdoors. Having a portable kayak, like the Flip-Kat™ makes transportation easy and it makes the ability to explore the outdoors like never before.
Storability
The importance of storability in a portable kayak
Adventure simply starts with having a portable kayak. Improved from the traditional kayak design, now you are able to store all the fun stuff you bring along with you. Whether it is your hunting decoys, fishing tackle, or your birding binoculars, you will need to have a place to store your things. The possibilities are endless when you store compartments in your portable kayak.
Tips for storing a portable kayak when not in use
UV light over extended periods does damage to plastics, so it is important to keep your portable kayak in a shaded area
Keep your kayak inside or under some cover to limit complete exposure to the elements
Clean the kayak thoroughly before storing it, removing any dirt, debris, or salt.
Store the kayak in a dry, cool, and well-ventilated area, away from direct sunlight and extreme temperatures.
Use a kayak cover or tarp to protect the kayak from dust, UV rays, and other environmental factors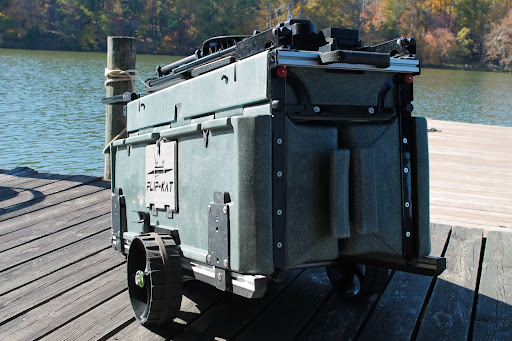 Portability
The convenience of a portable kayak
Kayaks of the past have always taken up space. The hassle of strapping down a full-size kayak to the roof of your car and worrying if it is going to blow right off of it is over. A stress-free adventure starts with the ease and convenience of a Fold Up Kayak. Most portable kayaks now can fit in the trunk of your car and are light enough that moving them around is easy. You can truly take a portable kayak to almost any body of water. Portable kayaks now make it so you will never have to drag your kayak through the woods just to get to your favorite pond.
Tips for storing a portable kayak when not in use
Ensure the portable kayak is safely stored in your vehicle where it won't be able to move and become damaged
If your kayak has an integrated wheel system use that to gain easy access from the car to the water and vice versa
Use a paddle and make sure you are launching and retrieving your kayak from a safe point
Do a safety check of your kayak to ensure everything is working probably before departing on your kayak
Options
The variety of portable kayaks available
There is a wide variety of portable kayaks available on the market today, designed for different types of water, activities, and skill levels. They range from inflatable kayaks that are easy to pack and transport to folding kayaks that can be easily stored in small spaces, to sit-on-top kayaks that are suitable for fishing and recreational activities, to sit-in kayaks that are ideal for hunting or touring. Each type of kayak has its own set of features, benefits, and limitations, it's important to research and choose the one that best suits your needs and preferences.
How to choose the right kayak that fits your needs
Choosing a kayak that fits your needs requires consideration of several factors such as the type of water you will be paddling on, the activities you plan to use it for, and your skill level. If you plan on using the kayak mainly for fishing, you should look for a kayak with a stable design, multiple rod holders, and ample storage space. If you plan on using it for hunting, you should look for a kayak with a low-profile design, stealthy colors, and ample storage space. If you plan on touring and exploring, you should look for a kayak with comfortable seating, good tracking, and sufficient storage capacity. Always check the weight capacity and the stability of the kayak, and test it before buying.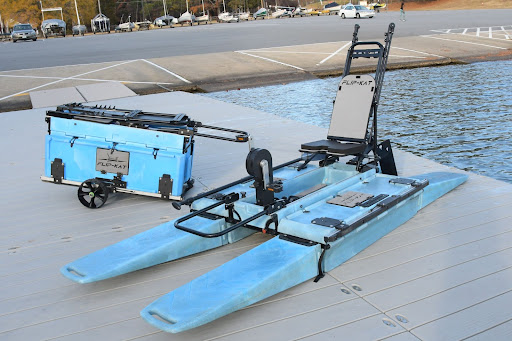 Stability
Factors that contribute to a kayak's stability
Factors that contribute to a portable kayak's stability include the width of the kayak, the shape of the hull, and the distribution of weight within the kayak. A wider kayak will generally provide more stability than a narrow one, while a flat-bottomed or catamaran-style hull will provide more stability than a round-bottomed one. The weight distribution within the kayak also plays a role in stability, with a kayak that has a lower center of gravity providing more stability than one that is top-heavy. Other factors that contribute to stability include the kayak's length, the design of the seating, and the materials used to construct the kayak.
Tips on maintaining stability in a portable kayak
Properly distribute the weight in your kayak: Keep the heaviest items close to the center of the kayak, and distribute the weight evenly.
Keep your center of gravity low: Sit in the center of the kayak and avoid leaning too far to either side
Use a kayak paddle or anchor to control your kayak in windy or choppy conditions
Use a kayak skirt to help keep you dry and warm in colder conditions, this will also help you to maintain a low center of gravity.
Practice proper kayaking techniques and do your best to maintain good posture and balance throughout your journey.
Technology
The latest technology available in other portable kayaks
The latest technology in kayaks today includes advancements in materials, design, and features. One example is the use of lightweight, durable materials such as carbon fiber, which helps to make kayaks more portable and easier to transport. Another example is the integration of new features such as pedal-drive systems, which allow for hands-free propulsion and more efficient movement through the water. Additionally, many kayaks now come equipped with advanced navigation and communication technology, including GPS and fish finders, making them more versatile for fishing and exploring.
How our technology can enhance your portable kayak experience
One of the unique parts of Flip-Kat's technology is the whisper-quiet pedal drive. This is truly unlike anything else on the market. It is fully integrated into the Flip-Kat™ system and it has a state-of-the-art belt is driven design for a powerful yet quiet experience. Additionally, the auto kick-up pedal makes it so no debris gets in the way. The Flip-Kat™ also has an ergonomically designed, fully integrated adjustable chair system that goes from a comfortable multi-seat chair to a full stand-up leaning post. The Flit-Kat is a sportsman's kayak that is unlike anything else on the market currently. Its unique features are changing the status quo on portable kayaks.
CreatingOutdoors Enthusiasts
The benefits of getting more people involved in outdoor activities
Getting more people involved in outdoor activities was one of the reasons our founders started this company, both for individuals and for the community as a whole. Being active outdoors has been shown to improve physical and mental health, and outdoor activities can be a great way to bond with friends and family. Additionally, increased participation in outdoor activities can help promote conservation and stewardship of the natural environment, as people become more connected to and invested in preserving it. Furthermore, outdoor activities can provide a sense of accomplishment and challenge and can boost self-confidence and self-esteem.
Tips on introducing friends and family to portable kayaking
Start with a calm, easy-to-navigate water body: Choose a lake, a pond, or a slow-moving river to make your first kayaking experience enjoyable.
Give them a brief training on how to paddle and how to handle the kayak before they start
Bring along a friend or a family member who has kayaking experience to accompany them on their first trip.
Provide them with all the necessary gear and equipment, such as life jackets, paddles, and sun protection.
Make the experience fun and relaxed, and encourage them to take breaks and enjoy the scenery as well. It's also a good idea to plan a picnic or a snack on the way to make it more enjoyable for them.
Buy the Best Portable Kayak on the Market Today!
Tips while shopping
Determine your needs: Decide what type of water you will be kayaking on and what activities you will be using the kayak for.
Research different types and brands of kayaks: Compare features, specifications, and reviews of different models.
Test the kayak before buying: Try it out on the water to see how it handles and how comfortable it is.
Check the weight capacity and stability of the kayak: Make sure it can accommodate your weight, gear, and equipment.
Consider the cost and value: Compare prices and look for sales or discounts, also consider the long-term cost of ownership, such as the cost of maintenance, repair, and replacement parts.
The Flip-Kat™ is a folding kayak that folds up to fit in a standard closet. It's fully-assembled with the pedal system inside the kayak so forget about having to unfold a metal frame and try to cover it with a skin, inflating and deflating your kayak or building your kayak with modular plastic sections. The Flip-Kat™ folds up into a compact box with exposed wheels and built-in handle for easy transportation. It's compact enough to fit two inside most SUVs, two to six in the bed of a truck, or up to two on the hitch rack system, so make sure to bring your friends along too!
After unfolding the Flip-Kat™, it ends up being over 11 feet long with its catamaran hulls. It also has a 4 foot wide deck, adding to the unmatched stability. This means there is little chance of flipping over when you're up and down while fishing or hunting. The center cockpit has both a chair and leaning post with over 250 adjustable positions for sitting or standing. The chair and leaning post is positioned above the hulls for a dryer kayak ride. However, if you're hot and want to jump in, the Flip-Kat™ has a simple pull-down step system for you to get back on board. If you'd prefer to stay dry but don't want to be in the direct sun, the Flip-Kat™ has a telescoping wide open canopy accessory for shade(great for unobstructed fishing).
One of the best features of the Flip-Kat™ is the integrated whisper quiet pedal drive. Its unique kick up prop shaft is designed to pop up and over when encountering obstructions like rocks and logs going through shallow water so that there's never a need to stop. Other kayaks require you to reroute or remove the pedal system when going through such conditions. If you want to sit or stand but not pedal, the Flip-Kat™ also gives the option to attach a Bixpy electric motor that can be used alone or simultaneously with the pedal system.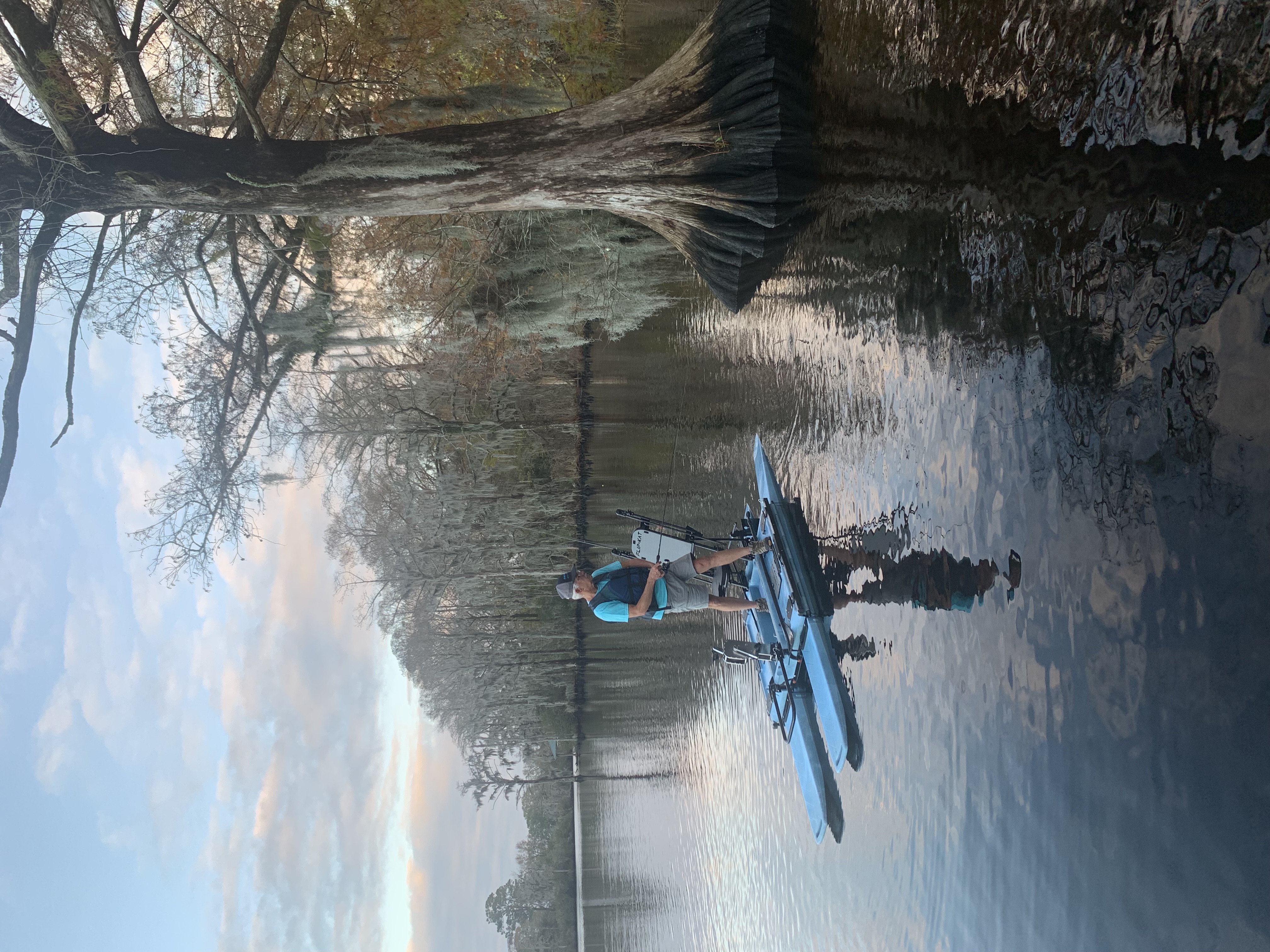 It's clear that no feature was overlooked in the creation of the Flip-Kat™ and we haven't even mentioned the built-in cup holder and tool caddy on the chair. This kayak was designed with ample storage, T-Trak, and plenty of places to put your fishing, hunting or recreational gear. There is something for everyone with the Flip-Kat™, leading it to be the best portable kayak on the market for kayak lovers, fishermen, hunters, and people young and old. Out of all the great options, the Flip-Kat™ is a storable, portable, and extremely stable kayak! It has almost all, if not more features than most traditional kayaks. The technology, such as the integrated whisper quiet pedal drive, makes the Flip-Kat™even more advanced than a traditional pedal kayak. You don't even have to be an experienced kayaker… As long as you love nature, the Flip-Kat™ is the right portable kayak for you!