Table of Contents:
Pedal vs. Paddle Kayaks
Should I buy a paddle or pedal kayak?
When one thinks of kayaking, the first thing that comes to mind is usually a long kayak and a paddle. However, there is another type of kayak that has been taking the market by storm: the pedal kayak. A pedal kayak is very similar to a traditional kayak with a paddle, but it has a pedal drive system mounted through the kayak hull. Instead of powering the kayak with your arms and torso, you power it with your legs. Anyone who is interested in a pedal kayak will not have to worry about forgoing a paddle. There are some instances where you will still need a paddle to navigate in a pedal kayak, such as in shallow water with plenty of underwater vegetation. While there are a myriad of pros and cons for both types of kayak that will be addressed below, the better option will come down to which features are most important for you as a kayaker. Overall, one should look for which kayak can provide the most important features in one solid investment. Spoiler alert, you can purchase a kayak that does both!
Pedal Kayaks
Further and Faster
It is typically understood that most people have more power in their legs than their arms. This means that a pedal kayak can take you further and faster than a traditional kayak with a paddle. Pedal kayaks can be larger, wider and carry more weight then many traditional kayaks while maintaining the same if not faster speeds. Not to mention, this faster speed will naturally be implemented on a more consistent, sustained basis. This allows you to cover more ground with more gear at a faster pace. One is able to make the most out of a kayak excursion by literally going the extra mile.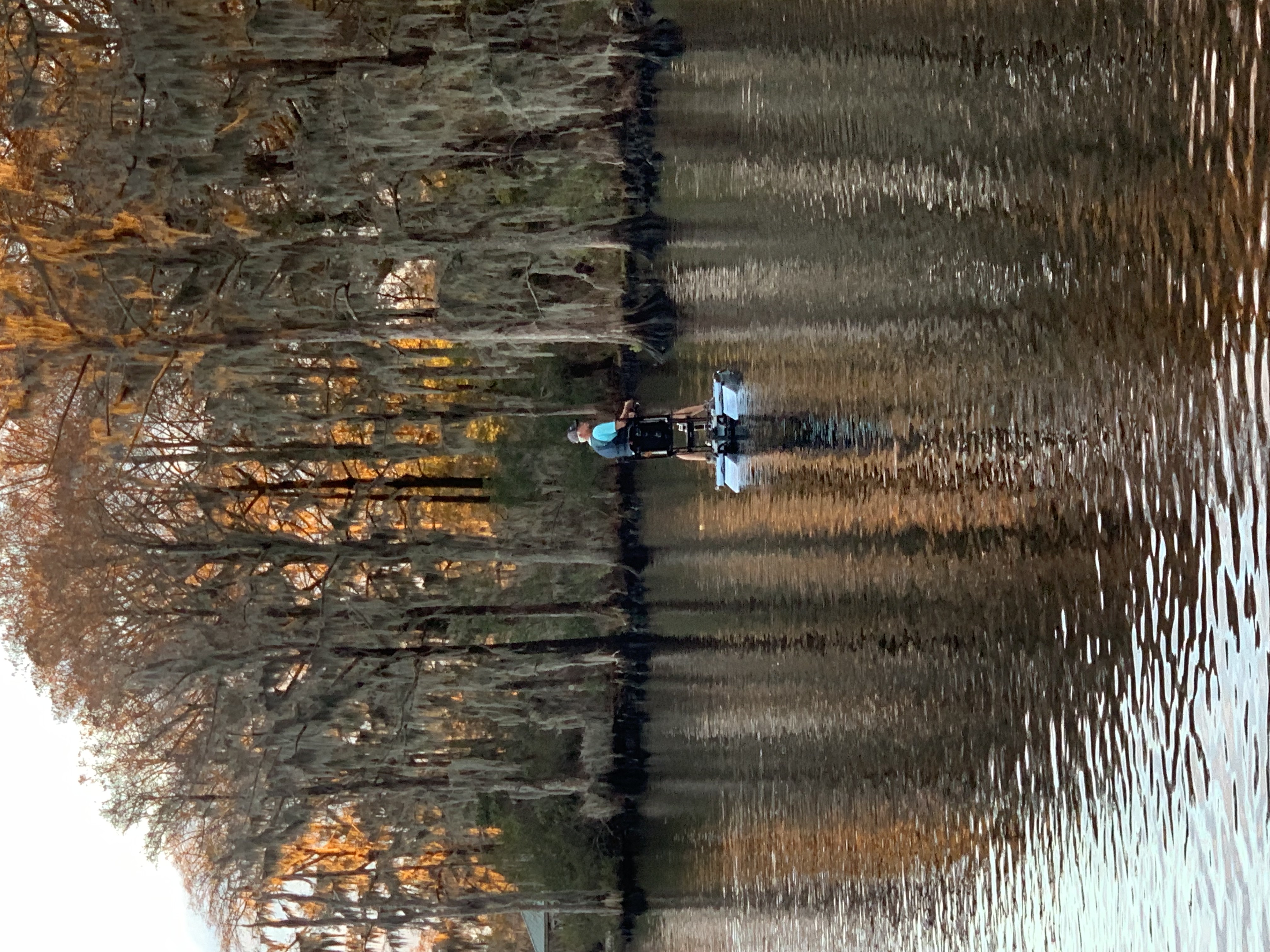 Hands-Free
Another reason that makes pedal kayaking great is that you are traveling hands-free. Well, you will still have to steer with the rudder – but that's easy! As long as you are going straight or do not need to kayak along a certain pathway, you are operating the boat pretty much hands-free. This creates the ability to multitask. This feature is perfect for kayakers with other hobbies such as photography, fishing, hunting, and more. If you are safely in the center of a lake with no upcoming obstacles, you could pedal away as you snap hundreds of photographs from your pedal kayak.
Kayak, Fishing, and Hunting
The hands-free factor is a huge perk for kayak fishermen. Pedaling hands-free gives them a chance to bait their lines while en route to their favorite fishing spot. An angler can fight a fish and maneuver at the same time. Worst case is using one hand to steer your rutter while leaving one on the fishing rod. Depth can be a limiting factor for many pedal kayaks due to increased draw depths. But kayaks such as the Flip-Kat® have eliminated this by having an automatic Kick up prop shaft. Plus, many pedal drive systems are quieter and less disruptive to the fish below than a paddle. Pedal kayaking is also loved by avid kayak hunters because they can reach places they normally can't by boat or foot.
Stability and Confidence
The average size of a pedal drive Kayak is larger than a traditional paddle kayak. The width, length, and capacity of the kayak can be increased because a pedal drive can more efficiently move the mass through the water. They also don't have to be designed around an ergonomically efficient paddle position. Due to the increased width and general size pedal kayaks can be substantially more stable. This makes them ideal for activities such as fishing, hunting, and other activities that may require the ability to stand or an extended range of movement. It also gives the kayaker a greater sense of confidence out on the water. Especially in rougher water or colder seasons. Another perk of a pedal kayak is capacity and storage. Many of the activities mentioned above require significant amounts of gear and supplies. Pedal kayaks give you a place to put it. The space and stability a pedal kayak provides also gives you plenty of room to move around during those extended trips on the water. This makes for a much more comfortable day on the water. These features and more make pedal kayaks a great choice.
Paddle Kayaks
Simplicity
Some people prefer a traditional kayak with a paddle thanks to the undebatable simplicity of it. That is true kayaking in their minds. Just themselves and two simple tools: a boat and a paddle. There is not much technology getting in the way of their ability to paddle out on a body of water to enjoy all their beautiful surroundings.
Legroom / Storage
Most pedal kayaks are sit-on-top kayaks. This means they probably have less internal but more external storage compared to a sit-inside kayak. A sit-inside kayak comes with a cockpit that can double as a storage space but due to the width of many paddle kayaks it can be cramped. If you have a sit inside kayak it can also be hard to get to any external storage without risking falling out. However, there are sit-on-top paddle kayaks on the market that feature many built-in storage compartments but they tend to be much more narrow than a pedal kayak to aid in paddling. A traditional cockpit also offers plenty of legroom. To the point of legroom, a pedal kayak is more stable which allows you to stand up and move around if you are feeling antsy.
Less Weight
The additional factor of a pedal drive means the kayak will have extra weight. If you are planning on kayaking alone or cannot lift any unnecessary weight, it may be wise to choose a traditional kayak. However, it is important to note that traditional kayaks are by no means easy to transport in general. That is why portable kayaks were invented. If you live far from a body of water, have little storage space at home, and/or cannot handle a bulky kayak, a portable kayak is the right choice for you. That being said, if you were leaning towards a pedal kayak, you should choose a portable pedal kayak!
Shallow Water Accessible
Lastly, a perk of traditional paddle kayaks is that they are shallow water accessible. Although pedal kayaks are wonderful, the majority of them are only wonderful in deeper water. Underwater weeds can get tangled in the pedal drive if a pedal kayaker does not pull the drive out of the water and switch to utilizing his or her paddle. A traditional paddle kayaker can leverage the paddle against the shallow ground to help maneuver the boat into a more clear area. Plus, the bottom of the boat does not jut out into obstacles like the pedal drive on a pedal kayak would. There is one pedal kayak on the market that can navigate the shallows, weeds, rocks, and underwater obstacles without having to be removed.
The Best of Both Worlds!
Every kayaker should prioritize what features matter most to them and what they plan to spend the most time doing on the water. An option that makes that process easier is a kayak that offers the best of both worlds: a pedal kayak with many of the benefits of a paddle kayak! Just when you think a kayak couldn't get any better than that, it does. A new portable kayak called the Flip-Kat™ offers both pedals and the ability to stand up paddle! The creators of the Flip-Kat&®, Noisy River Outdoors, did not settle for less. You can now get all the pros of both a paddle and pedal kayak in one and it's portable. The factors you would imagine you cannot compromise on, such as access to shallow water, stability, and storage were designed flawlessly to accommodate all kayakers.
On the Flip-Kat™, you can choose either the simplicity of paddling while standing or the hands-free appeal of pedaling. You can even take advantage of the Bixpy electric motor at the same time. If you wanted to alternate in the middle of your kayak excursion between the different methods, you could! The Flip-Kat's&® unique pedal drive is built-in, meaning you do not have to attach it pre-kayak trip or take it out in shallow water. It comes ready to pedal. Unlike other pedal kayaks, the Flip-Kats® pedal drive has a kick up prop shaft that allows you to pedal or paddle through shallow water without having to remove it. The flat bottom catamaran hulls draw very little water despite the size of the kayak. So you could potentially travel to all the places you would in a traditional paddle kayak using all the benefits of a pedal drive.
The Flip-Kat® is the first portable sportsmen kayak of its nature. Kayak fishermen and hunters love the Flip-Kat® thanks to its unmatched stability, amount of storage compartments, comfortability, and more. The Flip-Kat® portable kayak uses double catamaran hulls that are over eleven feet long and a deck that is over four feet wide. Essentially, the Flip-Kat® is an extremely stable platform kayak. The wide deck offers plenty of space to move around, no extra legroom needed. There's even enough space to bring your dog, too! A chair/leaning post is positioned above the deck which can be adjusted to fifty four different positions. The kayak offers over five cubic feet of storage inside its large hulls.
One of the best factors of all is the Flip-Kat's® portability. The Flip-Kat® folds up into a compact box that fits inside any standard closet. Its built-in wheels and pull handle allow for an easy transition from house to car. While most pedal kayaks are long and cumbersome to move, the Flip-Kat® folds up into a compact box that is designed to be easily moved around with its built in wheel system. The Flip-Kat® can be loaded into the back of trucks, UTVs, and most SUVs. Noisy River Outdoors even has a hitch rack that can fit up to two Flip-Kats®;. Once at your launch location, the Flip-Kat®; quickly Flips out so that you can get on your merry way in about 2 minutes… After all, "Flip-Kat®" stands for Fast Launch Integrated Portable Kayak with Catamaran Hulls!
One of the most special features about the Flip-Kat™ portable kayak is that you can navigate shallow, rocky water without you having to worry about an obstacle. The completely unique propeller shaft kicks up and over anything that comes in its way. Other pedal kayaks are limited to where they can travel, but the Flip-Kat® is practically limitless. It was certainly designed with all kayakers and demographics in mind. There is no debate that the Flip-Kat® is the best kayak on the market. Best of all, you will not have to choose between a paddle or pedals!